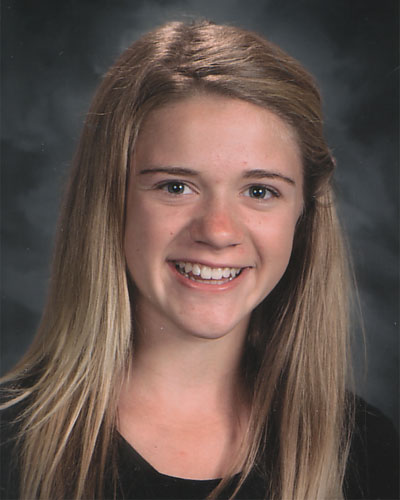 Catie Eck
Springfield Blessed Sacrament
Principal: Mrs. Kathy Wear
The power of teamwork has had a strong effect on Catie Eck, the Board of Directors Division M Scholar Attitude Award winner, throughout her participation in cross country, basketball, volleyball, and golf during her junior high career.
Catie has learned that while she depends on her teammates, they also depend on her; so she tries to give 100 percent at all times.
One instance Catie and her team gave it their all and saw it pay off was at the IESA state cross country finals. The Blessed Sacrament cross country team won the state championship, her proudest moment thus far.
She recalls, "We all worked so hard and the support that I received and gave during our season is something I truly will not forget. It was one of the most significant and fun things I have accomplished so far."
Catie is also thankful for her teammates when she was dealing with the loss of a close family friend. Whenever she seemed down, her teammates made sure to cheer her up and make her laugh – for which she is very thankful.
After high school, Catie hopes to attend her dream school, Notre Dame, to study something within science. She is drawn to the medical field because she would like to help those who are suffering from illnesses.