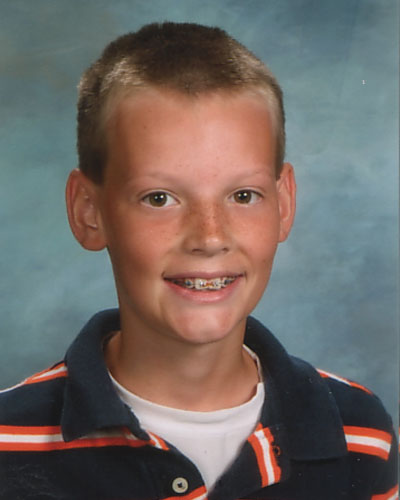 Will Hall
Macomb
Principal: Ms. Dana Isackson
Will Hall has continually shown others that despite his physical size, he has the ability to compete, participate, and win.
As the youngest person in his class, Will is much smaller than his peers, causing others to believe he is not capable of doing well in athletics because of his size. However, Will tries to work twice as hard and have a positive attitude to gain the respect of his peers and competitors.
"Now, my classmates cheer me on and believe in me," Will wrote. "I know that I may continue to face this challenge in the future, but I feel that I am better prepared to deal with each new situation because of my participation in a variety of activities, and the fact that I didn't allow others to get me down."
Will, the winner of the 2014 Board of Directors Division J Scholar Attitude Award, has maintained a 4.0 GPA during his seventh and eighth grade years while also competing in boys basketball, choral competition, and cross country.
In the future, Will would love to see all forms of bullying come to an end. He believes bullying occurs far too often in schools and if it was ended, many of the emotional and physical issues that arise from bullying could be resolved.
Will is also interested in pursuing a degree in the engineering field, which is inspired by his father's involvement at Western Illinois University's Engineering and Technology department as a professor.