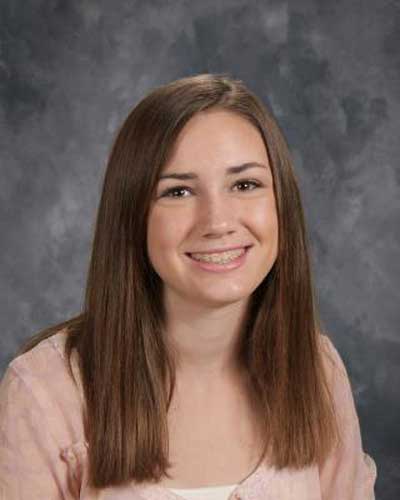 Taylor Larson
Mossville
Principal: Mrs. Brooke Geltmaker
Losing a close friend to cancer in 2010 has helped Taylor Larson realize a positive attitude and a big smile make all the difference.
Lexi Helfrich, Taylor's friend and former teammate, lost her battle with Wilms' Tumor (a form of kidney cancer that typically occurs in children) several years ago. But Lexi has continued to inspire Taylor to be strong and always fight through the difficult times.
Taylor's basketball teammates, coaches and friends were instrumental in dealing with the loss of her friend because they were all in it together, as she remembers, "To know I wasn't alone in how I felt made it a little easier to deal with. Our basketball team now wears 'Love for Lexi' on our shooting shirts to honor my friend. Being involved in basketball has provided me a way to honor her every time I step on the court."
Taylor has lived up to the "Lexi Strong" mentality, earning a perfect 4.0 GPA in seventh and eighth grade while also competing in basketball, cross country, and track – all reasons why she is the Scholar Attitude Award winner for Board of Directors Division F.
Because of her experiences, Taylor hopes the world will someday be cancer-free. In the meantime, she would like to earn a degree from the University of Illinois to become a child psychologist. Taylor loves children and wants to help kids work through their personal issues.