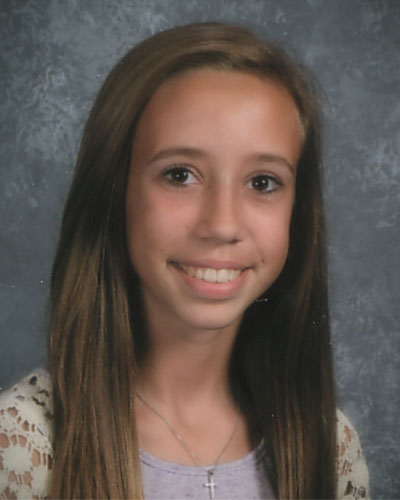 Grace Gliwa
Homer Glen Homer
Principal: Mr. Troy Mitchell
The "attitude" part of the Scholar Attitude Award is what makes Grace Gliwa stand out from her peers, thus earning her the title for Board of Directors Division D.
Grace's excellent attitude is one she inherited from her grandmother, who she refers to as "Nana." Despite recently undergoing brain surgery, Nana has remained positive and optimistic – which has rubbed off on Grace and provided her with inspiration.
Grace has previously been awarded for her admirable attitude, winning the Mustang Award in her seventh grade year for her excellent attitude, academic success, and leadership skills. Grace is most proud of that accomplishment because only a select few are chosen as recipients, and because she hopes to use it as motivation to grow in the recognized categories.
Similarly, Grace would love to change the attitudes of people in the world. She feels people are too often judged based upon race, gender, and social status – and she believes that attitude should change. Grace writes, "Everyone on this planet is the same when it comes down to our skeletons. It's just a matter of realizing this on the outside, and then our world will be more peaceful. We are all equal no matter what."
Grace hopes to use her gifts and tendencies to have a good attitude to study psychology or education in college. She would love to continue her athletic career at either Arizona State or Notre Dame.