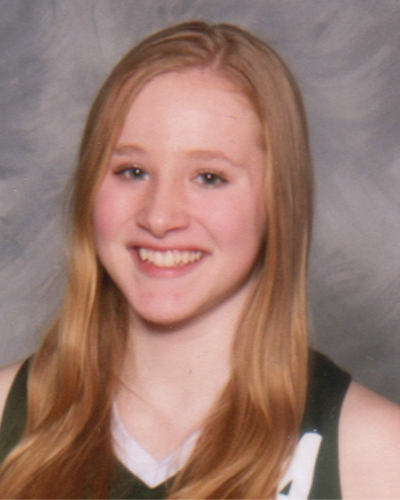 Emily Albrecht
Dunlap Valley MS
Principal: Mr. Jason Holmes
Emily Albrecht is a student at Dunlap Valley Middle School who knows how to fight through tough times in life.
During 7th grade, Emily suffered a serious fracture while playing volleyball, had to get a full leg cast, and learn how to move around in a wheelchair for two months. Describing this difficult experience Emily writes, "I fought through agonizing pain, monotonous physical therapy exercises, and much melancholy at the thought of losing the ability to play volleyball." By looking towards her family and role model Misty May-Treanor for support and inspiration, Emily worked through her tears and pain to get back on the court.
Due to this experience, Emily is now interested in becoming a Doctor of Physical Therapy, which would require her to be a Pre-Med student in college. However, she would also like to study her two favorite subjects: Literature and Creative Writing.
Emily expresses being profoundly gratified in helping others to improve their reading skills and future career preparation by collecting almost 600 books to be donated to Trewyn School in Peoria. She even took the extra step to donate her own collection of favorite childhood books so that others will have the experience of reading. Emily is a great example of a cheerful giver.
As the 2013 Scholar Attitude Award winner from Board of Directors Division F, Emily maintains a 4.0 GPA and High Honor Roll status, while participating in Band, Volleyball, Cheerleading, Track, and Art Club. She also showcased her impressive vocabulary skills as a finalist in the school Spelling Bee, and is a regular volunteer at church and at the homes of busy neighbors, who she helps out with yard work and food preparation.