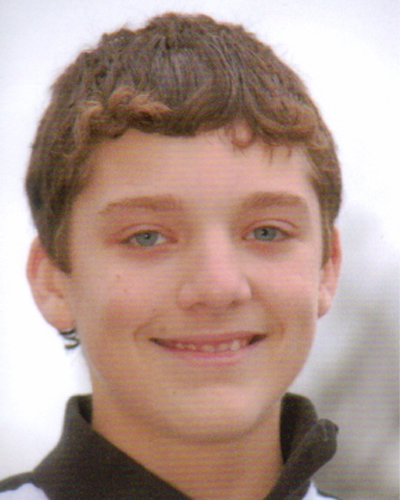 Jeff Gifford
Clifton Nash
Principal: Mrs. Victoria Marquis
Being selected as the 2013 Scholar Attitude Award winner from Board of Directors Division G is Jeff Gifford's favorite accomplishment to date.
As a student at John L. Nash Middle School in Clifton, Jeff has achieved a 4.0 GPA and High Honor Roll status with accelerated Math classes, but he is not ready to stop here. Finding strength in growth Jeff insists, "I work on improving myself everyday, and I strive to be a role model in my thoughts, words, and actions."
At home, Jeff strives to lead by example for his seven brothers and one sister, but in many ways, his siblings also help set positive examples for Jeff to follow himself. Jeff acknowledges that his younger sister Allison, who was diagnosed with Trisomy 21 and a heart defect, has significantly inspired him to be a better person. Jeff writes,
"Even though my sister Allison is a child born with special needs and requires many medical appointments and therapies, she never seems to complain, and she brings joy to everyone that meets her." This is the type of person that Jeff strives to be on a daily basis.
Jeff has been able to build strong relationships with his peers and team members who help him get through difficult times, and has even been asked by adults at school to serve as a peer leader for his schoolmates.
Jeff takes pride in his role as student-leader and extends it to every organization that he participates in, including Baseball, Basketball, Beta Club, Band, and Jazz Band, as well as volunteer work and awareness walks, which he participates in to honor Allison.