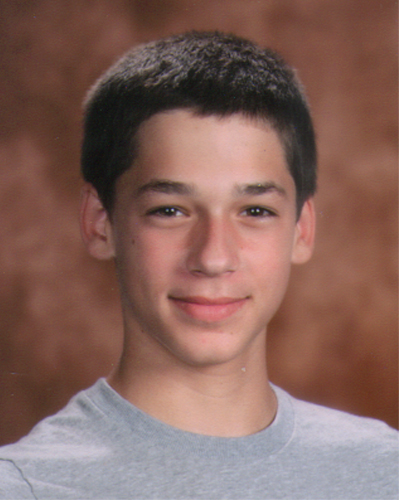 Michael Picchiotti
Edwardsville Lincoln
Principal: Dr. Steve Stuart
Michael Picchiotti, the 2013 Scholar Attitude Award winner from Board of Directors Division O is an Honor Roll student-athlete at Lincoln Middle School in Edwardsville. Whether you are a spectator at one of his school's Baseball, Basketball, Track, Cross Country, Tennis, Dodgeball, or Swimming events, itís a pretty good chance that you will see Mike doing what he loves. One of his greatest achievements occurred this school year when he was selected to be a starter on his 8th grade Basketball team.
Just like his impressive list of sports, when it comes to plans for college, Michael is keeping his options open. The University of North Carolina, the University of Iowa, and Notre Dame are all on his list of possible schools to attend, and he would like to earn a degree in either Pre-Med or Engineering.
Some of his most memorable community service experiences come from volunteering at concession stands during volleyball tournaments, the Sixth Grade Welcome Night, church activities, participating in the Guidance In Operation program at school, and interacting with seniors at the Meridian Village Assisted Living Community.
When he enters high school, Michael plans to join EPIC (the Edwardsville Peer Influence Club) so that he can be a positive force after whom the other students can model themselves.
Michael insists that admirable people have four essential characteristics: they must be smart, successful, have a good personality, and make a positive influence on those with whom they come into contact. Anyone who knows Michael would surely agree that he meets all of those qualifications.