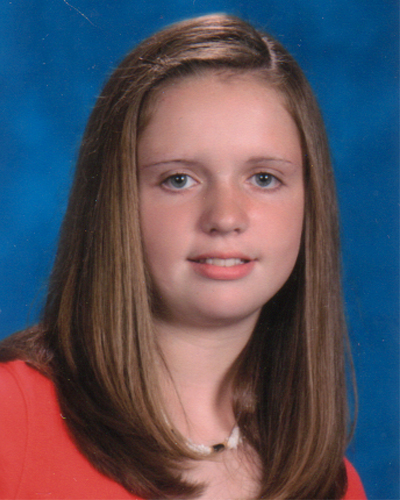 Andie Bolton
Rantoul St. Malachy
Principal: Mr. Jim Flaherty
Andie Bolton, a High Honor Roll student at St. Malachy School in Rantoul, has been honored with several Illinois Elementary School Association awards, including 1st place in the IESA Speech Contest during 7th and 8th grade, setting five individual records during the IESA Class 7-1A Basketball State Tournament, and is now being recognized as the 2013 Scholar Attitude Award winner from Board of Directors Division K.
Andie credits her many sports awards to the teamwork and camaraderie that she gets from other members on her Basketball, Volleyball, Track, and Cheerleading teams. At other times she has to give herself the credit, such as when she became the Daughters of the American Revolution Essay Contest chapter and district winner.
Andie enjoys giving back to her school and community by tutoring other students, volunteering in the school cafeteria, preschool classes, Fall Fest, and babysitting.
She sees her role as community member to be a significant one. Reflecting on lessons that she has learned during church service she writes, "We sing a song in my church and the first line is 'Let there be peace on earth, and let it begin with me.' ...if we all work toward peace in our families, classrooms, communities, and even sports, we can collectively make a difference."
After suffering a stress fracture in her foot, Andie had to take a break from participating physically in sports, but she was appointed to team manager by her Track coach, which gave her a new purpose on the team. Reflecting on this position Andie writes, "This was when I learned that being a member of the team does not always include being on a court or field. I learned to support my team and felt pride in their accomplishments."
Andie is excited about attending high school and looks forward to using her time there to clarify future career goals.