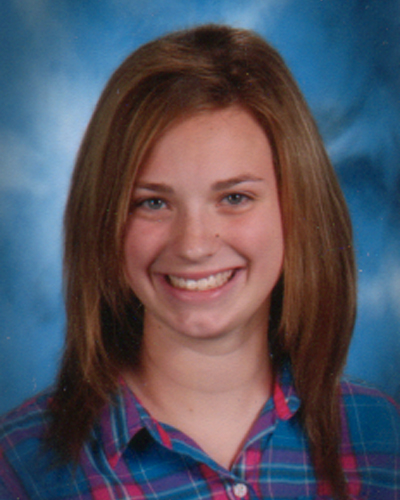 Madison Fox
Augusta Southeastern
Principal: Mr. Cyle Rigg
Madison Fox, the 2013 Scholar Attitude Award winner from Board of Directors Division J, is a student at Southeastern Junior High School in Augusta, who explores unique interests as a member on the Discovery Ag Forestry Team and Dairy Foods Judging Team.
In addition to her 4.0 GPA, awards in Science and Reading, and numerous sports team awards, Madison is most proud of participating in the Character Education program at school and being honored with the Citizenship Award in sixth and seventh grade. Her role as Band Historian has been pretty cool too.
Interscholastic activities have added strength to Madison's personal life. When her Grandpa Paul passed away, Madison was humbled when her Basketball teammates sent her flowers during his visitation services. The actions of her team members allowed her to see how being a good teammate goes beyond the field and court.
When she enters high school, Madison would like to join the Volleyball team, Student Council, and FFA, which will provide her with many opportunities to meet new people and develop public speaking skills.
Madison finds personal inspiration from her Aunt Brittany whom she admires for the way she faces life lessons. Her aunt's experiences remind her that "Nobody in the world is perfect, but everyone deserves to be respected and treated kindly by others." Madison wishes to go to college to play volleyball and becoming a teacher just like her aunt.