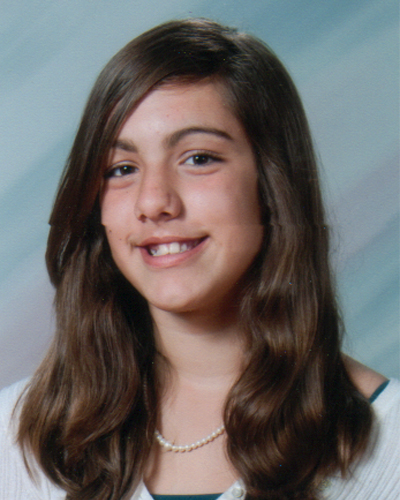 Grace Konczyk
Lincoln West Lincoln-Broadwell
Principal: Mr. Bailey Climer
Since the age of ten, Grace Konczyk has wanted to be a Pediatrician and has been planning to attend one of the best pre-medical programs at either Stanford or Johns Hopkins.
As an 8th grader at West Lincoln-Broadwell School in Lincoln, Grace has made her mark. With a long list of academic and interscholastic achievements, ranging from six first place rankings in Band Solo and Ensemble to the Math Speed and Accuracy Award, Grace demonstrates excellence in everything that she does.
If you asked Grace where she gets her inspiration from she would speak about her mother, whom she praises for her dedication to providing structure for her children and helping to take care of Grace's great grandmother.
Grace believes that by being an active member in sports and academic clubs that she has been able to develop in leadership, teamwork, humility, organization, and hard work. It is with these skills that Grace, the 2013 Scholar Attitude Award winner from Board of Directors Division I, was able to work through the challenges that came with the transition to junior high school.
Not only has Grace established herself as a local community member, but a global citizen. Thinking of how she could improve the realities of others in the world she writes, "Living in the United States, we are blessed with so many opportunities. If I could change one thing in the world, I would provide all of these opportunities to children of other countries who may never have a chance at a good education or a successful job."