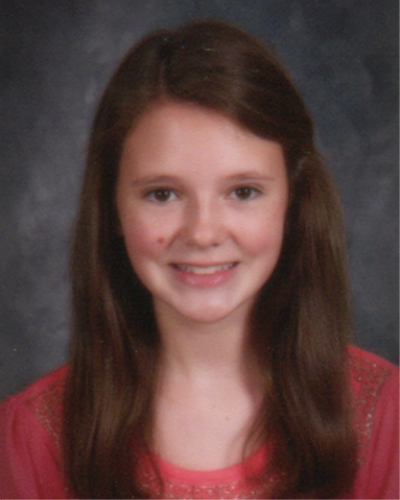 Meghan Curran
Annawan
Principal: Mr. Wayne Brau
Meghan Curran, recipient of the 2013 Scholar Attitude Award from Board of Directors Division B, is a wonderful example of how a well-balanced involvement with school, community, and home can lead to a fruitful life.
One personal achievement that Meghan is most proud of is being elected as President of the Junior High Student Council at Annawan Grade School. She credits good sportsmanship as a principle that has helped her to learn and demonstrate leadership skills, respect, and teamwork in this important position. Meghan is also a clarinetist in Band and has participated in a variety of sports, clubs, and special performances. Some of her achievements in these activities include winning first place at a Band contest, being a two-time winner of the class Geography Bee, and winning the Artist of the Week Award.
Meghan's name consistently appears on the Honor Roll due to her demonstration of outstanding scholastic achievement with a 4.0 GPA, and she even finds time for extracurricular activities such as babysitting and volunteering for Vacation Bible School and the American Red Cross Blood Drive.
When it comes to family, Meghan acknowledges the positive influence that her loved ones have had on her. She most admires her Grandpa, whose genuine desire to help others, dedication to attending her special events, and lessons on respecting others makes her proud. Also, it is her older brotherís experience with being deaf in one ear that has inspired her to become a Doctor of Audiology in the future.
Meghan's vision for a better world centers around Girl Power! As she explains in her Scholar Attitude Award application, "When girls feel beautiful they walk a little taller with their heads held higher. They feel that they can conquer the world. Every girl should be able to wake up in the morning feeling beautiful and like they can accomplish anything they set their mind to."