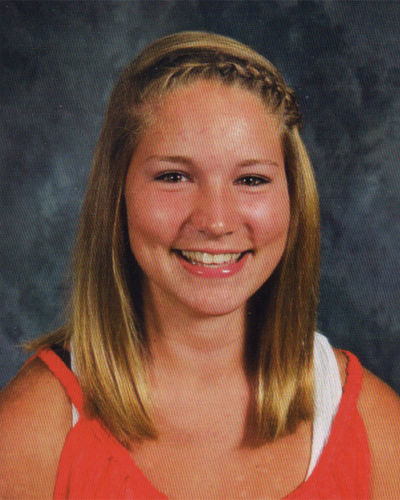 Cassie Bastian
Forrest Prairie Central
Principal: Mrs. Tonya Dieken
Cassie Bastian, the 2013 Scholar Attitude Award winner from Board of Directors Division E is a High Honor Roll student-athlete at Prairie Central Junior High School.
As a two-time recipient of both the Most Valuable Person and Athlete of the Week awards for volleyball and softball, you can tell that Cassie is serious about her sports. She was even awarded the prestigious Presidential Physical Fitness Award for her outstanding athletic abilities.
Cassie loves school and excels in the classroom, especially in English and Literature. But even when she encounters those subjects that seem tougher than others, she perseveres. When she began to struggle with Math, Cassie pushed forward, realizing both a desire to perform at her best and a responsibility to remain accountable to her Softball team members and fellow Student Council members. Her position as the Social Director for Student Council is exciting because it allows her to be a part of something bigger.
As an influential community member, Cassie spends time collecting and packaging donations, and serving as landscaper and gardener as she takes care of her neighbor's curb appeal when she is away. In high school, Cassie would like to be a member of the Future Career and Community Leaders of America program.
At a young age, Cassie is already interested in relevant issues such as the invasiveness of media coverage on major events. What she views as a lack of respect for people's private lives in the media inspires Cassie to be compassionate and to assert that, "Acceptance is important because everyone messes up." Cassie's father has influenced her thoughts here in a positive way; speaking about her "Super Dad," Cassie writes, "My dad gives everyone a chance; he never judges a book by its cover."
Cassie plans to continue caring for others by pursing a Master's degree and Ph.D. in Psychology which will allow her to talk with people about their problems and difficult issues with which they may need help.