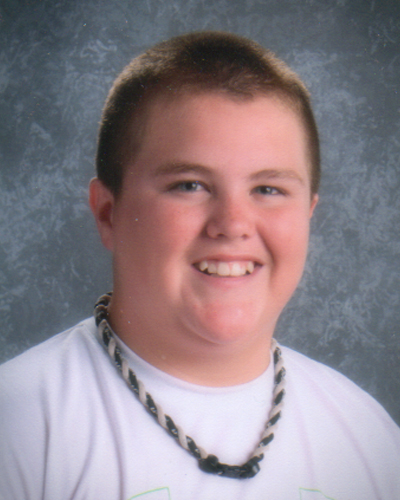 Wade Lassen
Robinson Nuttall
Principal: Mrs. Sue Catt
Wade Lassen is a young man who sees the value in getting a solid education and is not afraid to put learning first.
Reflecting on his dedication to school work Wade writes, "There were times when I had to forfeit being with friends, watching TV, or playing my favorite video game to prepare for a class or an upcoming test." Although these were tough decisions to make, it is clear that these sacrifices have paid off; Wade has achieved a 4.0 GPA and his teachers at Nuttall Middle School in Robinson, describe him to be an outstanding, respectful, and responsible student who impressively completes all of his homework. You can also find his name on the Perfect Attendance roster for at least two quarters during 6th, 7th, and 8th grade.
Even awesome people have others that they look up to and for Wade, the 2013 Scholar Attitude Award winner from Board of Directors Division N, that person is his father Justin Lassen; Wade shares, "I admire him for the influence he has had on my life, and the encouragement he has given me to be the best person I can be." Wade also acknowledges the influence that his great grandmother had on his love of sports. He sees his participation in sports and his desire to earn a Masters degree in Sports Management as his own way of honoring her.
Wade is an important figure at school and throughout the community as he enjoys volunteering at a variety of events throughout the school year and summer months, and he is even learning how to be a skilled huntsman.
Considering improvements that could be made in education, Wade believes that schools should have high standards for the way that students, teachers, and staff treat each other. He envisions communication and problem management courses to become part of the curriculum at all schools. With this training, Wade strongly believes that "students would have more confidence and their self-esteem would be higher." He also notes that, "Our schools would be safer and more enjoyable."