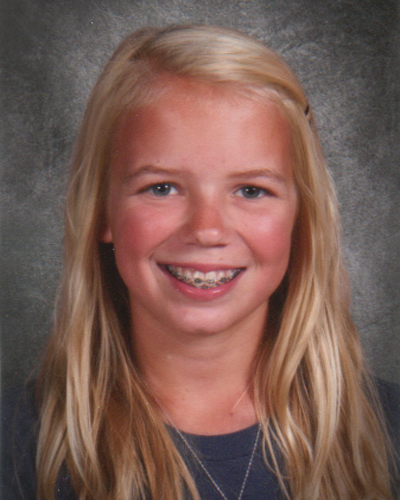 Cara Geurts
Stanford Olympia
Principal: Mr. Andy Walsh
Cara Geurts is an Honor Roll Student at Olympia Middle School who values the opportunity to experience Cheerleading, Softball, Basketball, Track and Field, Student Council and the Spartan Leadership Crew. Cara explains, "By participating in interscholastic activities, I have had the benefits of making new friends, staying active, and learning the value of teamwork."
As this year's 2013 Scholar Attitude Award winner from Board of Directors Division H, Cara is no stranger to accomplishment. She has already received the Math Student of the Year Award, placed in the Top Ten for the 7th grade Math MAP test, and was even selected for the title of "Most Outgoing Personality" for the school superlatives.
When not at school, you can catch Cara playing with the Oly Fire Softball Travel Team, volunteering with the Good Shepherd Lutheran Church Sunday School and youth group, or at Hopedale Wellness Center working on sports training.
Cara plans to continue her academic excellence into her high school career and has her eyes set on being inducted into the National Honor Society by her junior year. In college, Cara would like to study Pre-Med and become a Neonatologist, working with premature infants in the Neonatal Intensive Care unit at a great hospital.
Cara is really concerned about homelessness and hunger and wishes that more could be done to address these worldwide issues. She writes, "Every day I come home to a loving family, a roof over my head, clothes to wear, and food to eat. It is very hard for me to imagine wondering where I will sleep every night, if I will have anything to eat, and if I will make it to the next day." If Cara could change the world she would see to it that every town could have a shelter and supplies to care for the less fortunate, and that there was enough food so that no one in the world had to go hungry.