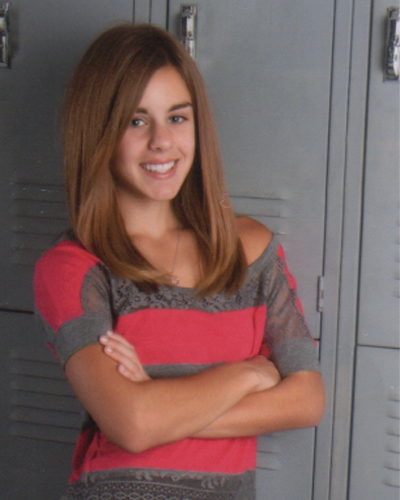 Breezy Keppy
Paris Crestwood
Principal: Mrs. Danette Young
Breezy Keppy, the 2013 Scholar Attitude Award winner from Board of Directors Division L, is a responsible student who has the courage to stand strong against the influences that she determines to be a mismatch for her life goals.
As a straight-A student at Crestwood School in Paris, Breezy has been the recipient of many academic, and athletic awards, with one of the most unique being the Veterans of Foreign Wars Patriot's Pen Essay Contest Winner from District 17. As a student-athlete, Breezy takes pride in knowing that good sportsmanship is a part of her athletic character; she writes, "Whether I come home with a win or a loss, I want to know that I played with integrity and fairness."
In the summer of 2011, Breezy broke her left hand while playing softball, but instead of siting around for six weeks, she enrolled in summer enrichment classes where she learned cooking, sewing, woodworking, and creative writing.
Volunteering at the Edgar County Homeless Organization has drawn Breezy's attention to the reality that many people in the world lack basic necessities that are often taken for granted by those that have them. It is her hope that all children could have the tools that they need to survive in life; as she explains, "I believe that every child has a special gift and should be given a chance to shine."
Following in the footsteps of her mother and older sister, Breezy plans to pursue studies at the University of Illinois at Urbana-Champaign.