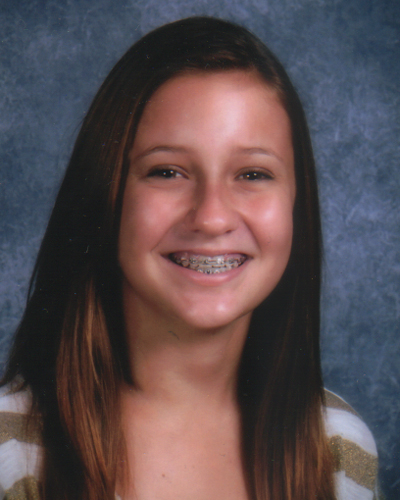 Julia Chillon
Frankfort Hickory Creek
Principal: Dr. Kevin Suchinski
Julia Chillon has had an eventful experience as a student at Frankfort Hickory Creek Middle School. Drama Club, Track and Field, serving as co-captain for the 2012 Cheerleading team, FCA, Club Volleyball, and Travel Softball are all interscholastic activities with which she has been involved. Julia has been listed on the High Honor Roll every quarter, and has also been a participant in the Everest Program for gifted students. After school, she has even served her community as a church volunteer and babysitter, and has deservingly received PAWS awards for citizenship, fairness, and responsibility.
Julia's participation with the activities that she loves was interrupted when she had to have a tumor removed and spent six weeks receiving radiation treatment. During this time Julia attests that her faith allowed her to stay strong not only for herself, but for her loved ones as well. Persevering through treatment, Julia had to miss school on some days and began to fall behind in her school work, but determined to maintain a good attitude and outstanding student record, Julia has been able to achieve a 3.8 grade point average and legitimize her title as the 2013 Scholar Attitude Award winner for Board of Directors Division D.
At a young age, Julia's actions and character have already served as an inspirational model for many people, and she desires to continue to help others reach their fullest potential with her future endeavors. When she becomes a high school student Julia would like to become a member of Student Government and Best Buddies where she can improve the social atmosphere of her school and help her peers with special needs become active participants in the school community.
Beyond high school, Julia wants to extend her heart and hand to ailing children by working as a pediatric nurse, and serving as an ambassador striving to raise awareness about the various examples of child abuse that exist in our world today.