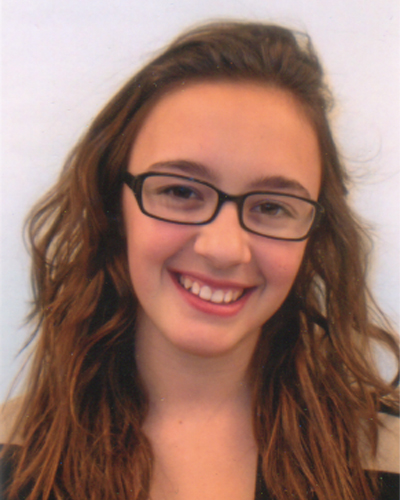 Julia Megazzini
Yorkville
Principal: Mr. Adam Zbrozek
Earning a 4.0 GPA while taking all advanced classes is a challenging academic goal for any student to reach but Julia Megazzini makes it look easy! Her name has appeared on the "All A Honor Roll" for six quarters at Yorkville Middle School, and she has an impressive list of school involvement including Peer Leadership, Student Council, Circle of Friends, Peer Buddies, plays and musicals, Beau Chant (the Honors Choir), and the Track and Cross Country teams.
As a member of the school's Cross Country team, Julia has showcased her talents in the annual IESA State Cross Country meet for the past two years. This year she surpassed her own personal best time that she achieved while in 7th grade. During her service as the Captain for the Cross Country team Julia has received the Cross Country Captain of the Year Award. Julia shares that interscholastic activities have helped her to deal with emotionally tough experiences such as her grandmother's fight with dementia. Julia writes, "I usually run to clear my mind and it helps me cope while I'm sad thinking about my grandma." She also expresses thanks for her teammates who are always there for her to talk to.
When she enters high school, Julia would like to continue Track, Cross Country, Choir and musicals, in addition to joining Student Council and Student Ambassadors where she will be able to help new students feel welcome and help make her school a better place. Outside of school Julia has enjoyed taking piano lessons, babysitting, and volunteering for school events and the Kendall County Food Pantry. It comes as no surprise that she has twice been awarded the Character Counts Award.
Julia's older sister Sarah serves as a great role model for our 2013 Scholar Attitude Award winner from Board of Directors Division C. Commenting on what makes her sister so special, Julia writes that, "She's an amazing athlete, sister, daughter, student, and friend." Another family member that Julia admires is her aunt, whose work as an engineer has encouraged her to attend a Science, Technology, Engineering, and Mathematics (STEM) workshop for women and to pursue a degree in Engineering when she begins her college education.