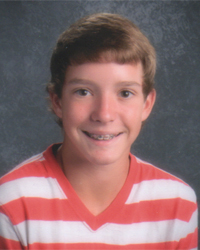 Dustan Davidson
O'Fallon Fulton
Principal: Joi Wills
Last fall, the Fulton Junior High school play was "The Fearless Pirate Frank." Maybe next year it will be "The Fearless Golfer Dustan." Or "The Fearless Wrestler Dustan." Or "The Fearless Runner Dustan."
Dustan Davidson does it all. Dustan is the 2012 Scholar Attitude Award winner from Board of Directors Division O, based on his participation in cross country, wrestling, track and field, golf, drama (yes, he appeared in "The Fearless Pirate Frank"), and the National Junior Honor Society, as well as his excellent grades. Dustan has received High Honors every grading period.
He won his school's 8th grade basketball free throw shooting contest, making 77 of 100 free throws, set a new school record in the 1600 meter run, won the wrestling regional in the 100 pound weight class in 7th grade, and won regional and sectional titles at the 119 pound weight class in his 8th grade year. In addition, Dustan won individual weight class titles at the Jacksonville Turner, George Nemeth and Tri-County Tournaments. In the first-ever IESA state golf tournament held last September, Dustan finished tied for 13th out of 96 golfers.
But it's his time of 2:11.6 at the conference track meet that makes Dustan most proud. "My previous best in that 7th grade year was 2:15," Dustan reports. "I had been training hard and had my sights set on breaking my school record of 2:11.3, but came up just a little short." He realized, however, that he still has one more chance, as an 8th grader, to break the record. And there is one more silver lining in that cloud. As Dustan goes on to explain, "After seeing that a time of 2:12 in the 800 meters won the IESA meet for the 7th grade, I realized I had the fastest 800 meter time in the state for a 7th grader." Well done, Dustan!