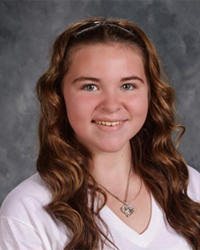 Kelly Schneider
Mt. Olive
Principal: Doug Smith
It's hard for an 8th grader to stand alone, but Kelly Schneider took on that challenge.
"I had played basketball since 3rd grade," Kelly relates, "and I always had a large number of girls from my class participate on our team. Once junior high started, that large number dwindled down to about five girls, and as school progressed, the numbers just kept getting smaller. My 7th grade year, we only had three 7th graders on the team. Finally, reaching my 8th grade year, we only had one 8th grader. Me."
Kelly had to be a leader and a role model, all by herself. "I worked with the 5th, 6th, and 7th graders in their preparation for the state tournament, and I was cheering them on the entire way," she says. "I am proud of myself, because I could've quit right when I found out I was going to be the only 8th grader, but I didn't. I stuck through it, and after the season, I realized I would not have wanted it any other way."
Recipient of the 2012 Scholar Attitude Award from Board of Directors Division O, Kelly has spent three years on the basketball, track and speech teams, in student council, and playing in the band. She added a year competing in Scholastic Bowl and a year doing the Nana WriMo writing program.
Among Kelly's honors are science and health scholar awards, Presidential Fitness and Academic awards, a citizenship citation, and three years of Honor Roll. She has finished in 1st place in speech, the science fair and in the Patriot's Pen essay contest.
After high school, she hopes to study psychology and sociology at the University of Illinois. Wherever she goes and whatever she studies, you can be sure she will stand out.