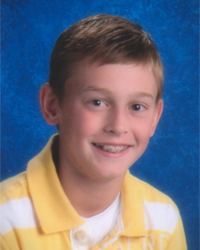 Reed Schafer
Effingham JHS
Principal: Jason Fox
Reed Schafer, who has won 2012 Scholar Attitude Award from Board of Directors Division N, plays basketball for Effingham, perennial rival of powerhouse Teutopolis. Traditional rivals. Legendary basketball towns. It sounds like a recipe for bad feelings and ugly competition, right? Wrong.
"The games with Teutopolis are always intense," Reed writes. "There will be ten players on the floor competing to their best ability. From the cheerleaders to the coaches to the fans, it is life or death. Neither team likes each other on the floor, but when the game is over we respect each other, and even have built some friendships."
He adds, "We all know how much effort we have given, how we left everything on the floor. When you compete against an opponent like that, you have nothing but respect for them."
Reed is a leader in basketball, where he is the point guard, and in baseball, where he's the shortstop, as well as on student council, where he is the president this year. His teams won regionals in both baseball and basketball. He's also competed in track at Effingham Junior High, and he participates in Image Makers, the AV Club. He is a strong believer at Centenary United Methodist Church, attending church youth group and sitting on the youth group's council, as well as going on a mission trip and this year, working hard at confirmation classes and publically displaying his faith and affirming his commitment to the congregation.
Reed has grown up a Hoosier fan, and would like to attend IU someday and possibly earn a bachelor's degree in education.