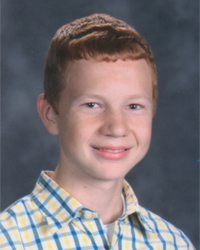 Tyler Johnson
Springfield Christian
Principal: Sheri Hall
In the summer before Tyler Johnson started 8th grade, his parents traveled to China to bring home a new member of the family, 7-year-old Kristi.
"I knew this was going to be an adjustment," writes Tyler. "Soon she started to follow me everywhere and was curious about everything -- not something an 8th grade boy appreciates."
Tyler quickly learned he needed to make time for his new little sister, even when he would rather be doing something else. "Running has given me the discipline to do things that I do not want to do and the knowledge that pain brings growth," Tyler concludes. "I believe that activities such as basketball and Scholastic Bowl helped because they allowed me to become a good team player and to learn that you have to put aside individual goals to do what's best for the team. My family is my most important team."
Tyler, who takes home the 2012 Scholar Attitude Award from Board of Directors Division M, is a state champion in cross country. He placed 2nd at state in the 1600 meter run in track, and 5th at state in the 800. He was his team's top rebounder in basketball, he has made High Honors every quarter, earning a perfect 4.0 GPA, and he's won six different 1st place medals in three different events in IESA speech and another six 1st place medals on piano and trumpet in IESA solo and ensemble music competitions.
Quite active in his church, Tyler plays the keyboards in Praise Band, occasionally plays the trumpet for the adult worship service, acted as worship leader at Vacation Bible School, and volunteered over Christmas break to distribute food to needy families. He also traveled on a mission trip to the Dominican Republic.