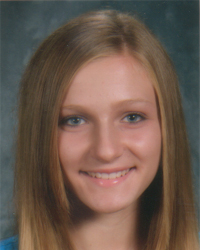 Hailey Hollinshead
Rochester
Principal: Brent Ashbaugh
Hailey Hollinshead has chosen a quote from the movie Haunted Mansion as inspiration: "You try. You fail. You try. You fail. But the only true failure is when you stop trying."
The winner of the 2012 Scholar Attitude Award from Board of Directors Division M, Hailey lives her "keep trying" philosophy in every endeavor, from cheerleading and student council to literary programs, the science fair, and playing French horn in the band. But it's in track and field that it really comes into play.
"It was almost exactly one year ago when the sectional track meet took place," she relates. "The events I qualified for were the 200 meter dash, the 4x200 relay, long jump and pole vault. I had trained all season for these events. It was finally my time to shine!" But fortune was not smiling on Hailey that day, and in her favorite event, the long jump, she jumped well under what she'd been doing all season, failing to qualify for state. At first she felt disappointed and defeated, but then she realized, "I had next year! Instead of letting the loss bring me down, I let it inspire me."
Hailey has been honored with the Rocket Pride Award and a young author's award, plus she's made Honor Roll, been named student of the week, and has received several Presidential Physical Fitness citations and a President's Education Award for academic achievement. She's reached the sectional level in all four of her track and field events and competed in hurdles on the local level. Hailey is vice president of student council and she received the "Most Spirit" award at cheerleading camp. She's taken that spirit and enthusiasm over to the Pre-Teen Illinois Junior contest, where she has won for talent and speech and "on-stage expressiveness."