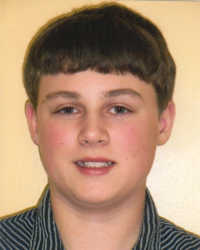 Danny Allanson
Paris Crestwood
Principal: Danette Young
"We didn't have a winning season this year," Danny Allanson says, "but I am proud that I stepped up to the challenge and had a great 8th grade season as a Crestwood Eagle basketball player."
For Danny, stepping up is what counts. That can mean giving his best effort off the bench in basketball, acting as a role model and mentor for younger kids, going door to door to inform Paris residents about a school referendum, or getting ready to take his place in the world to make a difference.
He's now a starter in basketball, plus he is a first baseman and pitcher in baseball, and he competes in track and field, Scholastic Bowl and Geography Bee. He is in the Gifted and Talented Program, along with art club and chorus, and he has done very well in the Edgar County All-School Art Competition. He also sang and danced in "Honk," the "Ugly Duckling" musical.
Danny is the recipient of the 2012 Scholar Attitude Award from Board of Directors Division L. He hopes someday to study biomedical engineering at Butler University, the alma mater of both his parents. His interest in the medical field may stem in part from a scary incident last August, when his dad had a heart attack. Danny's dad is now doing well, with changes in the family's health regimen and help from Crestwood staff and students. "I am thankful for my friends, teachers, coaches and everyone at Crestwood who helped our family get through a rough time," Danny says. "Interscholastic activities and the people involved have kept me motivated, occupied my mind away from the worries, and made me realize that all the people in our community truly cared about me and my family -- on and off the field."