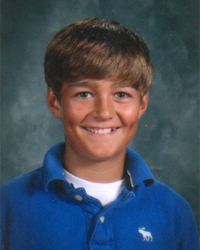 Nick McHale
Mahomet-Seymour
Principal: Jeff Starwalt
When he came face to face with bullying, Nick McHale didn't crumble and he didn't just walk away. He founded the "No Bullies Zone" instead.
"At the start of the school year, one kid in particular talked behind my back and made fun of me," Nick explains. "I think being in student council helped me because I was able to talk to a teacher who is our student council leader and other encouraging adults and they gave me helpful advice. It took courage for me to stand up to the boy and I am hoping he will now make better decisions."
The recipient of the 2012 Scholar Attitude Award from Board of Directors Division K, Nick has seen a direct benefit from his participation in school activities. "Being in sports and the president of student council has helped me learn how to inspire others by being a role model and leader," he says. In addition to the "No Bullies Zone," Nick has founded the "Pup Squad," a student cheering section for Mahomet-Seymour games. He's played basketball and baseball, run track, and played percussion in the band.
Nick has earned a perfect 4.0 GPA, with High Honor Roll every semester. He was captain of his basketball team, earned a spot on the 25+ Consecutive Free Throws Club, and helped his baseball team to regional and sectional championships, with an Elite 8 appearance in 7th grade.
Showing just how well-rounded he is, Nick also took home awards for reading the most books in 6th grade and creating art, with six pieces chosen for the "Celebrate Art" display. He is on travel teams in baseball, basketball and football, he swims, plays golf and racquetball, and he is a "Camp Huddle" leader with the Fellowship of Christian Athletes.