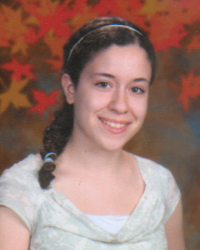 Marianna Vakaki
Champaign Next Generation
Principal: Chris Bronowski
Marianna Vakaki has been in the United States for only four years. Four short years to polish her English, make friends and carve out a place for herself.
"I used to live in Greece," Marianna explains. "As you can imagine, moving to another school in another country was rather difficult. When I came here, my English was poor, thus I did not have many friends. In the spring of that first year, when I was in 5th grade, I started doing track and field. That sport not only introduced me to a lot of new friends, it also helped me learn English faster."
Four years ago, Marianna was racing to pick up the language, and now, here she is, taking home awards for her poetry, singing in Next Generation School's musical, winning "letter to the author" and "story shop" contests, and entering the Youth Literature festival. It's pretty clear Marianna has mastered her English!
She also has a perfect 4.0 GPA and she took a silver badge in a national French contest. She was chosen 1st in "best gravity design" and 1st in "best aesthetics and construction design" at the University of Illinois Women in Engineering GAMES Camp. Marianna is the 2012 Scholar Attitude Award winner from Board of Directors Division K.
In addition to track and field, Marianna has competed in basketball and volleyball. She has participated in the school science fair and "Nano Days," as well as the Math Olympiad. For NGS, Marianna worked with Green Purpose on a zero waste project for the environment, and she's volunteered at a food bank and a refugee center. She's also volunteered at Three Hierarchs Church and pitched in with the Mega-Work-A-Thon at Empty Tomb. Clearly, Marianna is right where she belongs.