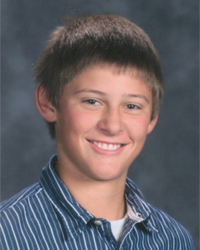 Jackson Allen
Ashland A-C Central
Principal: Dan Williams
Jackson Allen, the 2012 Scholar Attitude Award winner from Board of Directors Division J, is definitely a product of his environment. It's not just that Jackson has grown up in a rural area and hopes to study agriculture someday, but that his roots go deep in Ashland.
He notes that his grandfather, Harold Allen, is well-known in the Ashland community, which he came to after a stint in the U.S. Army and a brief time at the University of Illinois. Harold Allen left the U of I "when he felt he needed to work to support his new wife and baby. He then went to Ashland, Illinois, and started a small grocery store," Jackson writes. "He has owned and operated this successful business for over 50 years. Seeing him in action has taught me the importance of working hard."
And that's exactly what Jackson has done, balancing the demands of baseball, basketball, track, band and Future Farmers of America with his academics, earning High Honor Roll and top grades in English, science, literature, agriculture, band and P.E. throughout his middle school years. He's been named Best Defensive Player and Most Improved in basketball and given the "Redbird" award in track, plus he has been singled out for his exemplary "hustle" in baseball and basketball.
Jackson credits his interscholastic activities with enhancing his self-confidence and communications skills, helping him reach outside Ashland when necessary, and preparing him for a college career in a larger town. "This year, our school made a drastic change," he says. "We formed a new sports co-op with a larger school. I immediately met new people. Without the social skills that I had acquired from interscholastic activities, it would have been very difficult."