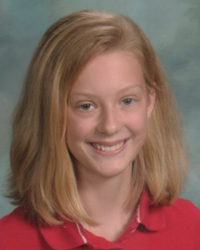 Gabrielle Torrance
Macomb
Principal: Dana Isackson
Gabrielle Torrance has experienced a dizzying array of activities in the junior high chapter of her story. And Gabrielle loves a good story! She chooses J.K. Rowling, author of the Harry Potter books, as her most admired person, and she cites Rowling's work ethic and charitable efforts as part of the reason why. "[Rowling] is a strong woman that never stopped trying," Gabrielle notes. "She is a prime example of how hard work really can have great benefits."
Gabrielle loves to read, and she's an excellent writer, too. In 1st grade, Gabrielle penned a story that was made into a play by Child's Play Theatre in Chicago, plus she won her school's D.A.R.E. essay contest. "I would like to somehow include this love of reading and writing in my future plans," Gabrielle says.
If she does end up as a writer of fiction like J.K. Rowling, she may end up with something very different from a wizard as her main character, however. How about a heifer? Gabrielle is very proud to have trained a Hereford named Lily who was selected as the 2011 Midwest Regional Jr. Hereford Show Grand Champion. That experience has made her think that she might like to go into veterinary medicine or animal genetics someday.
Winner of the 2012 Scholar Attitude Award from Board of Directors Division J, Gabrielle has a perfect 4.0 GPA. She has participated in band, jazz band, choir, swing choir, student council, basketball, volleyball, and newspaper, and she won the school spelling bee. She was selected to the IMEA All-District Honor Band, plus she has top ratings in competitions for piano, voice and bassoon. She was captain of the 7th grade Scholastic Bowl team and a member of the team that won its regional, and she has been very active in 4-H.