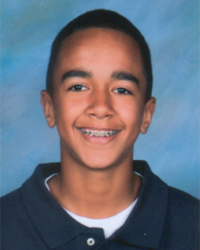 Dallas McClain
Decatur Stephen Decatur
Principal: Howard Edwards
When Dallas McClain talks about the person he admires most, you can understand what makes Dallas himself stand out. He looks up to basketball player Deron Williams, someone he calls the best point guard in the NBA, but not for his fabulous stats or his lofty position. What Dallas admires is Williams' "humble and unselfish attitude on and off the court," as well as "how he gives back to the community and helps others that are in need." He writes, "Deron isn't just thinking about himself, he is doing his best to help others as much as possible."
Dallas may have a stellar resume, with a perfect 4.0 GPA, awards for Mathematician of the Year and Outstanding Spanish Student, a Scribe and Scroll Award for excellence in language arts, and being named a Decatur Area All-Star in basketball, but he already knows there's more to achievement than honors. Humility, generosity, helping others... Those traits are reflected in Dallas' belief that friendship, respect and integrity are key components of team sports.
Dallas, who is the recipient of the 2012 Scholar Attitude Award from Board of Directors Division I, has been a volunteer with the Special Olympics and the 21st Century After School Program, and he has participated in American Youth Baseball, the Decatur Memorial Hospital Sports Enhancement Program, and the Junior Football League.
His communication skills are top-notch, and he would like to attend the University of llinois both to play basketball and to study communications with the hope of becoming a sports analyst on TV. And if his dreams come true and he makes it to the NBA, Dallas would love to do what he can for the Decatur community, giving back and helping others like his idol Deron Williams.