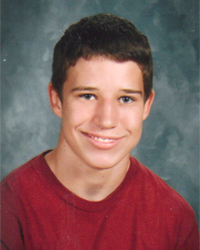 Connor Kennedy
Normal Parkside
Principal: Dan Lamboley
Connor Kennedy's junior high life is very busy, but he finds time for the chess team. "Being in the chess club isn't the most popular thing in junior high. I've gotten teased a bit!" Connor says. "I asked them why it matters that I play chess and that made most of them stop." He concludes, "My social and communication skills that I've learned from being so involved in interscholastic activities helped me work out the problem."
He used the problem-solving ability from his classes and the can-do attitude from athletics, and he made it work. That combination is part of what makes Connor the recipient of the Scholar Attitude Award from Board of Directors Division H.
Connor has never had a grade lower than an A -- not even an A minus -- during his junior high career. "I understand my education is a valuable part of my life, so I make it a priority even though I have very little free time," he says.
Captain of the wrestling team this year, Connor also made it to the state track meet in the 4x100 relay, and he was named Most Outstanding Musician in band. His chess team played at state the past two years, with the team taking 2nd at state as 7th graders and 3rd as 8th graders, and Connor placing 5th individually. In wrestling, he won the 135 pound weight class sectional championship this past winter. Due to injury, he was unable to participate at the state meet.
Outside of school, Connor is a member of the Order of the Arrow in boy scouts, he is active in his church youth group and a volunteer at the Midwest Food Bank, Safe Harbor Homeless Shelter, and Evergreen Nursing Home, and he has rung a bell or two for the Salvation Army. He played Pony baseball, and he was named MVP of the Twin City Tigers football team.