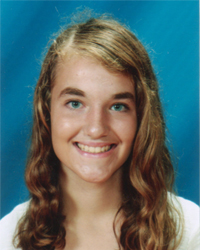 Jen Ehresman
El Paso-Gridley
Principal: Robby Tomlinson
Jen Ehresman doesn't just talk a good game when it comes to sportsmanship. She lives it.
During her 8th grade basketball season, after a game against Pontiac, Jen's coach came back to the locker room to tell the girls something he'd just heard from the Pontiac coach. The opposing coach had told him, "Hey, #5 has the best sportsmanship I have ever seen in all 12 years of my coaching experience. She just impressed me so much by the way she carried herself and continued to have a great attitude."
In relating that story, Jen doesn't say whether her team won or lost. She does say this: "Sometimes as athletes, we get so caught up in our season's record, making it to state, or just plain winning. The true reason we compete should be for the love of the game! Winning is not everything."
With a perfect 4.0 GPA at El Paso-Gridley, Jen is the 2012 Scholar Attitude Award recipient from Board of Directors Division H. She is a four-sport athlete, competing in softball, basketball, volleyball and track and field, and she has still found time for student council, chorus, show choir, Math Counts and IESA solo and ensemble contest.
Jen's mother is former ISU basketball great Beth Landes-Ehresman, a Bone Scholar and Academic All-American who still holds the ISU record for 20 field goals in a game. Following her mom's leadership example, Jen captained her 8th grade basketball team, started in softball, basketball and volleyball, and enjoyed a regional championship with her volleyball teammates. She also participated in 4-H, A.C.T.I.V.E, Apostolic Christian Adopt-a-Friend, FCA Summer Camp, and the Gridley Gliders Swim Team, and she walked in a St. Jude Fundraiser.