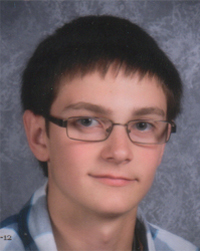 Jacob Emerson
St. Anne
Principal: Dawn Garner
Jacob Emerson remembers every single thing about his experience in the IESA state track meet last year. Even the smell wafting off the barbecue grills!
"All year, my friends and I worked hard knowing we could represent St. Anne," Jacob recalls. "We wanted to go to state, but we didn't run against anyone who pushed us. Finally, at state we could see how fast we really were. I remember getting to the track, overlooking it from a nearby hill, smelling the barbecue, and seeing all of the people. I was intimidated. After the meet, I wasn't intimidated anymore, but I was proud. I was proud to have been given that opportunity, proud to run with such exceptional athletes, and proud to have done that well."
Jacob's 4x100 relay team took third place at the state meet, plus he finished in the Top 10 in long jump. He was named MVP of that state-qualifying track team. He has served as captain of both his baseball and basketball teams, won the conference title in the 100 meter dash and 4x100, and was conference runner-up in long jump. Jacob has received six 1st place medals in IESA music competitions, plus awards for his pitching, his basketball defense, and his sportsmanship.
Along with baseball, basketball and track, Jacob has participated in Team Quest, math team, concert band, marching band, jazz band, the academically talented program, the school anti-drug/anti-alcohol program, and he was a student advocate to the Board of Education for the use of E-Readers.
With all of that on his resume, Jacob Emerson has more than earned the 2012 Scholar Attitude Award from Board of Directors Division G.