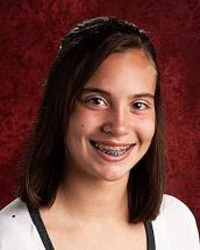 Allee Bunting
Watseka Glenn Raymond
Principal: Ryan McGuckin
As an outstanding student, Allee Bunting values her teachers. There's one teacher in particular who stands out for Allee: her dad. "He has been there for me ever since I was little, teaching me about sports and life and what it takes to succeed," she says. "He started off teaching, then got his master's degree to be a principal, and is now working toward his superintendent's endorsement. To me that is a huge accomplishment and that makes me want to work hard, too."
Winner of the 2012 Scholar Attitude Award from Board of Directors Division G, Allee aspires to follow in her father's footsteps someday, perhaps attending Eastern Illinois University to become a P.E. teacher and then a principal, too. "My favorite class of the day is P.E. I enjoy all the physical activity and I love being around my P.E. teachers," Allee explains. "I really want to coach a sport, too. Coaches motivate players to be better, and that is something I think would be awesome to do!"
Allee has played basketball and volleyball and thrown the discus in track for 3 years. She's also participated in choir, speech, the school newspaper, science club, math team and "Typing with the Stars." And she was a badminton champion in 6th and 7th grades.
All that effort has earned her "W" and "A" awards in 6th and 7th grade for getting all As, Honor Roll 5 semesters so far, and school and county records in discus.
"To break the records I threw a distance of 88 feet," she recalls. "I am proud because this achievement didn't just happen overnight. That day I was overjoyed with a sense of accomplishment and realized that ALL of my hard work counted for something. I'm proud of everything it took to win."