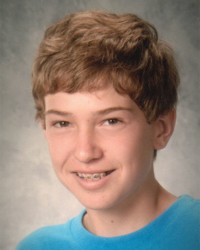 Nathan Corman
Monmouth ICS
Principal: Kathryn Bennett
In his sportsmanship essay for the 2012 Scholar Attitude Awards, Nathan Corman quotes Vince Lombardi: "The real glory is being knocked to your knees and then coming back." And that's something Nathan knows a little bit about.
He hadn't played basketball before 7th grade, and he'd been working hard to learn the proper skills and mindset. But a few weeks into the season, Nathan suffered an accident that left him with a lacerated kidney. He was ordered to stay home from school for two weeks, and away from any physical activity for a month. But with the help of his parents, teachers, coach and teammates, Nathan was able to stay focused on healing, returning to basketball soon enough to reach the state tournament with his team. Knocked down, he got back up.
At Monmouth ICS, Nathan has played basketball and soccer in both 7th and 8th grade, and in the summers, played baseball with Midwest League and Lions League teams. Last year, the Lions League handed him its Vernon Schaub Sportsmanship award. Nathan also participated in band and the science fair. He won the local Knights of Columbus Free Throw Championship as well as the ICS spelling bee and geography bee, and acted as president of the National Junior Honor Society.
Recipient of the 2012 Scholar Attitude Award from Board of Directors Division F, Nathan Corman has compiled a perfect 4.0 GPA. He loves science and hopes to study it in college. He says, "I think science is an important field of study because so many of the problems humans face today can be made better by scientific research and discoveries. I would love to be able to contribute to that research and help solve some of those problems."