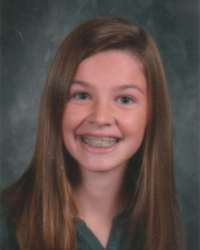 Samantha Bluth
Dunlap Valley MS
Principal: Jason Holmes
Samantha Bluth, the 2012 Scholar Attitude Award winner from Board of Directors Division F, has her sights set on changing the world. Samantha has already spent parts of her life in China, and she hopes one day to become an international journalist or filmmaker, someone who can "make a difference by raising awareness of global issues like poverty."
What's amazing is that she's only in 8th grade and she's already made major steps in that direction. As Samantha tells the story, "What started as a school report ended up changing the lives of hundreds of children. I chose to report on the conditions of a migrant school I helped teach at with my mom, not far from the international school that I attended overseas in China." The report led to a video and a piece in a magazine, and things began to snowball. Gifts poured in for the impoverished school, more people began to offer help, and soon Samantha was spearheading a campaign to get sponsorships for the school, and, in her words, raising "an incredible amount of money!"
She continues, "It seemed at the beginning like I was doing a really small thing, just telling them about something I cared about. But, in the end, I helped these kids who didn't have enough heat, electricity, and running water."
Samantha has run cross country and track, played softball and volleyball, swum with the Dunlap Dolphins, and participated in speech, student council and the science fair. She also has a perfect 4.0 GPA. As part of her plan to "bring people together, by opening the door to other people's lives," she's taken French and Chinese lessons and gone to photography workshops and Apple Movie Making Camp. Today Dunlap, tomorrow the world!