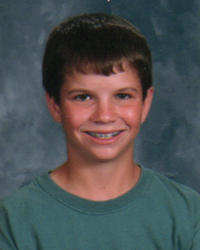 Kyler Knapp
Forrest Prairie Central
Principal: Tonya Dieken
For Prairie Central's Kyler Knapp, it's not so much about choosing among athletics, activities and academics, but about taking them all on. At the same time!
That means playing baseball and basketball, competing in Improvisation and Duet Acting in speech, and participating in Scholastic Bowl, FFA and student council. Along with the 2012 Scholar Attitude Award from Board of Directors Division E, Kyler has received his baseball team's "Most Improved" and the Scholastic Bowl's "Most Conscientious" awards, as well as a "Judges Choice" accolade for his duet in speech competition.
He's also earned a junior scientist award and citations of excellence in English, literature and social studies, and he took 2nd place overall in the Prairie Central math contest, with several 1st, 2nd and 3rd places in individual math contests. And just to top it off, he's been named PCJH Student of the Week and Athlete of the Week, with multiple Hawk "I" honors.
It hasn't been easy, and Kyler hasn't always succeeded on the first try. He considers 7th grade baseball to be an example of how perseverance has worked for him.
"Going into tryouts I was kind of the underdog and outsider," he says. "Most of the other athletes had played travel league baseball for the past couple years while I had only played with the Boys and Girls Club, which is far less advanced." Although he was not a starter at the beginning, struggling at the plate, he began to impress the coach with his defense and he got a shot in the outfield. That led to more chances to prove himself, and by the end of the season, Kyler was the starting shortstop and lead-off hitter, with the highest batting average on the team. And that's how you get to be "Most Improved."