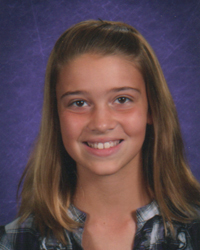 Alana Harms
Flanagan
Principal: Derek Sieg
"Attitudes are contagious. Is yours worth catching?" asks Alana Harms.
As she continues to lead by example, Alana shows that her attitude is definitely worth passing around. "This IESA opportunity is an incredible honor," she writes, "and I'm also proud of my straight A's all through my school career, but if I have to choose one single feat so far, I would say I'm very proud of winning the Falcon Award in track my 7th grade year."
At Flanagan, the Falcon Award is given for attitude and effort. Alana ran the mile, the 4x400 relay, and she jumped long jump. Even though the relay was not her favorite event -- by a longshot -- she still ran it when her coach asked, and she tried to do it with a positive attitude and enthusiasm. "That was why I won the Falcon Award," she says. "Even though I wasn't the 'star' runner, I earned it for doing the right thing."
Alana adds the 2012 Scholar Attitude Award from Board of Directors Division E to her long list of accolades, including that Falcon Award, as well as being named Flanagan's outstanding student in math, reading, language arts and science, earning MVP and team captain honors in Scholastic Bowl, making High Honor Roll, and five times being nominated for Student of the Month.
In addition to track and Scholastic Bowl, Alana plays softball and volleyball, sings in the chorus, competes on the speech team, plays clarinet in the band, and has participated in the solo and ensemble music contests as well as IMEA band auditions. In high school, she'd like to add student council and National Honor Society, and maybe, just maybe, be Valedictorian of her class!