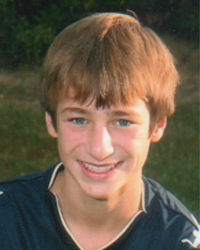 Ryan O'Callaghan
Lockport Oak Prairie
Principal: Mark Murray
Ryan O'Callaghan, recipient of the 2012 Scholar Attitude Award from Board of Directors Division D, seems pretty clear on where he's headed. "After high school, I plan to attend the University of Notre Dame, just like my older brother," he says. "I would like to go into a field of science or medicine, along with a background in writing and business for the side."
If that sounds like a tall order, keep in mind all that Ryan has already accomplished, qualifying for the state science fair, the National Fluid Power Challenge, and Solar and Fuel-Cell Powered Car Competitions. He made it to state in cross country and sectionals in track and field, participated in student council and National Junior Honor Society, and has maintained a 4.0 GPA throughout his junior high career.
And in his spare time... "I love to imagine stories and fantasies," he says. "I even have a whole book series planned out in my head that I would love to create someday and have published." Watch out for Ryan O'Callaghan, doctor, science teacher, businessman, or maybe the author of the next "Harry Potter" or "Hunger Games."
Ryan thinks last year's club soccer team has given him his biggest accomplishment so far. "Our main defender that played as the sweeper, or last man between our goal and the opposing team, got stuck on a flight and couldn't attend," he relates. "That meant that I had to play his position, a place I had never played before in my life."
One hard loss, one frustrating tie and a shoot--out later, Ryan's team took home the state championship. "In the end," he says, "it not only felt fantastic but taught me the valuable lesson that good things in life take devotion and hard work."