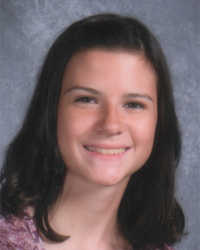 Molly Kapala
Frankfort Summit Hill
Principal: Beth Lind
"In sports, there are three kinds of competitors: losers, winners, and champions," Molly Kapala says. And Molly? It's easy to see that she's a champion all the way.
It's not because of how many homeruns she's hit in softball, how many points she's scored in basketball, how many checkmates she's notched in chess games, how many times she's leapt ahead of the pack in the long jump. It's because she understands how each piece fits into the bigger picture.
"A champion is someone who goes to practice early and leaves late, not only for themselves, but for their team," Molly writes. "Champions are not always the winners, but they choose to learn from what they have done wrong and what they have accomplished and improve in any way they can."
In 7th grade, Molly tried out for volleyball. She didn't make the cut. "I was very disappointed and I suppose a little embarrassed by this setback," she admits. "Then I thought that I needed to make something positive out of this situation. I asked the coach if I could be one of the managers for the team." The coach said yes, and Molly was there, part of the team, when the Spartans went to state, definitely finding the bright side of what had been a major disappointment. And that is the mark of a true champion.
Molly has a perfect 4.0 GPA and she is the 2012 Scholar Attitude Award winner from Board of Directors Division D. She was captain of her softball team, played on the regional championship basketball team, took 4th in the conference track meet in the long jump, finished 6th overall in the state chess tournament, and has earned High Honor Straight A awards eight years in a row.