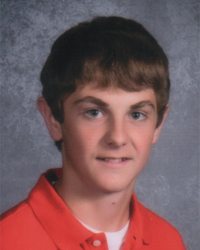 Cameron Van Boekel
Yorkville
Principal: Jeff Szymczack
What trait defines Cameron Van Boekel? Hustle! In fact, he's won the Hustle Award at the Yorkville High School basketball camp three times.
"I am very proud of this because it shows that I always try my hardest to be the best I can," says Cameron, who is the recipient of the 2012 Scholar Attitude Award from Board of Directors Division C. "It is very important to try your hardest in everything you do."
Cameron saw that principle in action even when he had surgery and was forced to sit out of football for more than half the season. Instead of trying to improve his game, he had to concentrate on healing. "I would go to every practice and game even though I could not play," he recalls. Being there to provide moral support, even when he wasn't physically in the game, helped him downplay the pain and still feel like part of the team.
In addition to football this year, Cameron has played basketball for two years, plus he participated in IMSA as a 7th grader. He did summer camps in baseball, football, basketball and tennis and hopes to play the first three of those in high school.
He also volunteered at the school's pancake breakfast, and helped out in various activities, from sorting and wrapping Christmas gifts for the needy to delivering meals to seniors through Meals on Wheels and bell-ringing for the Salvation Army, for his church.
As a student, Cameron has made the All A Honor Roll three of his six semesters, taken advanced classes in reading, writing, math, science and history, and earned a 3.94 GPA. He is especially interested in math and science and hopes to study either business or engineering when he gets to college.