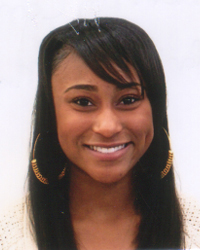 Hannah Cohn
Flossmoor Parker
Principal: Vanessa Atkins
As a state champion in both the 100 and 200 meter dash, the lead in "High School Musical" at Mother McCauley Drama Camp, president of National Junior Honor Society, and now the winner of the 2012 Scholar Attitude Award from Board of Directors Division C, Hannah Cohn knows what it means to succeed.
She also knows the focus and effort it takes to get there. "The values of hard work, dedication, sacrifice, perseverance, fairness and good sportsmanship are all keys to being successful in life and interscholastic activities," Hannah says.
At Mardall Parker Junior High, Hannah has participated in track, cross country, cheerleading and choir, but she's also worked hard on her grades. "I currently have a perfect GPA - 4.0. I am very proud of this accomplishment and feel that my participation in interscholastic activities has significantly helped me strive for excellence."
Hannah also credits her mother's influence. "She enrolled me in gymnastics when I was only three years old," she writes. "This was the first activity of many that my mother used to teach me how to set a goal, work hard, overcome difficulties, and reach high levels of success."
Someday Hannah hopes to be a doctor like her mom, although she thinks she'd prefer to be a pediatric plastic surgeon rather than go into obstetrics and gynecology like her mother. "I plan to attend Harvard University in order to prepare for the profession of medicine. I have a life-long interest in plastic surgery," she says. "I want to work with children that need facial reconstruction due to birth defect anomalies and burns." She adds, "Plastic surgery will be my means for helping children be happy."