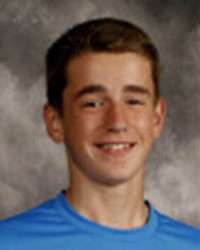 Quinn Singbush
Geneseo MS
Principal: Matt DeBaene
Scholarship and sportsmanship go hand in hand for Geneseo's Quinn Singbush, who firmly believes you can't have one without the other. "Boosting your sportsmanship can make your grades rise as well," Quinn concludes. "I've noticed around my school in particular that [the competitors with] good sportsmanship are superb students on and off the field."
Quinn is proud of his academic achievement with good reason – so far, he's compiled a 4.14 GPA on a 4.0 scale.
Outside the classroom, he plays basketball, football, baseball and soccer, and he competes in track and field. He also participates in choir, and hopes to continue singing as he moves into high school. "Choir lets you express yourself," he says, including the fact that it's "fun to cut loose with friends and sing." He'd also like to join Madrigals in high school, adding a little dancing to the mix.
When it comes to interscholastic activities, Quinn values the respect – of one's opponent and of the game itself – as well as the friendships, support and fitness aspects of competition. And he remembers one specific incident that motivated him. He'd made a costly turnover in a football game, but his teammates still greeted him with "Nice try, Quinn" and "You'll get them next time" when he returned to the huddle. The support of his teammates made him realize he was stronger as part of the team, and that being encouraged by friends who were also participating felt pretty good, win or lose.
Along with his positive attitude, Quinn has now earned the 2012 Scholar Attitude Award from Board of Directors Division B.