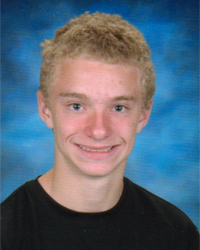 Justin Loquercio
Wheeling Holmes
Principal: Martin Hopkins
Justin Loquercio, recipient of the 2012 Scholar Attitude Award from Board of Directors Division A, believes in looking ahead. He isn't just preparing for this season's athletics or sketching out a plan to attend Stanford or MIT someday. No, he's gazing a little farther into the future.
"Dreaming about the future and what could be is exciting," Justin writes. "I would love to find a way to stop people from getting hurt during military conflicts by designing some type of shield generator that would protect innocent people. Maybe I can work on the next space shuttle or space plane that discovers new life on another planet or find a way to build a car that uses natural resources."
Justin participates in track, cross country and basketball, and he plays in the symphonic band. He has earned High Honors in 6th, 7th and 8th grades, and took 6th place at state in the 800 meters and 15th in the 1600 as a 7th grader, adding a 10th place finish in cross country this year. Outside school, he swims, golfs, bowls and plays baseball and is part of the St. Alphonsus Youth Group.
Justin's philosophy is not about winning or losing, but "Did I do better today than yesterday, did I give 110% to support my team and play the game or the sport the way it was meant to be played, with honor and integrity?"
Once again, he is looking ahead. "What would you say to your future son or daughter about how you just played the game?" he asks. "Would they be proud to say that was their mom or dad? Would they want to use their mom or dad as a role model? I want to be able to say YES to all of those when I compete."