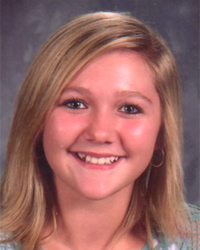 Amelia Murray
McHenry Parkland
Principal: Mike Adams
"Every kid deserves a shot," says Amelia Murray. If she could make one change in the world, it would be to spread the virtues of participating in activities and sports around, to find a place "where all children could be given the opportunity to experience a positive environment and feel good about themselves."
She adds, "A few minutes of positive interaction, leadership, and the chance at some form of physical or mental outlet might make the difference of a lifetime for them when they are unable to find these things at home."
Amelia's selflessness and positive attitude are reflected in everything she does, whether it's playing basketball, cross country or track and field at Parkland, acting as goalie on a boys elite ice hockey travel team, singing in the Viking Choir, serving on student council, or educating her school and community about epilepsy. Amelia is proud to have organized a fundraiser for Epilepsy Awareness and to have convinced her school district to acknowledge and better accommodate epileptic students like her sister, Melissa, the person she admires most.
"It is imperative," Amelia writes, "for others to be lifted up rather than pulled down, for there are those, like my little sister, who fight not on a court or field, but in everyday circumstances."
Winner of the 2012 Scholar Attitude Award from Board of Directors Division A, Amelia earned a 3.97 GPA in 7th grade and so far has a 3.92 in 8th grade. She is co-president of Parkland's student council, and she placed 4th at state in the discus. She hopes someday to earn a scholarship to play ice hockey at the University of Wisconsin.