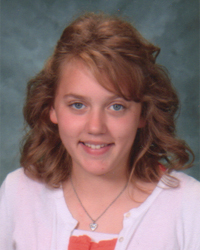 Charli Uhlrich
Findlay Okaw Valley
Principal: Mike Cummins
Speaking up "loud and proud" is a lesson Charli Uhlrich learned from her grandfather, Glenn Austin, someone she calls "very wise."
"I know I can always count on him to tell me the truth, no matter how ugly it may be," Charli writes. "He comes to many of my basketball and volleyball games, and his yelling and whooping voice can be heard above everyone in the crowd. At church he sings in the choir, and everyone can hear him; he sings loud and proud. It puts a smile on everyone's faces."
From her grandfather she learned about speaking up. And then she needed to add the ability to know when to stay quiet. Charli admits she has a "quick mouth" that has, at times, caused problems. "But once I started middle school, and especially once I started participating in sports," she says, "I learned that if I didn't hold my tongue, then I wouldn't be on the team. I learned very quickly when to speak my mind, and when, quite frankly, to shut up. I am so glad that I chose to be in these sports and activities."
Charli plays basketball and volleyball and participates in student council, band, and the high school marching band. She also makes her voice heard in Scholastic Bowl and in the chorus.
The 2012 Scholar Attitude Award winner from Board of Directors Division L, Charli has straight A's and a perfect 4.0 GPA. She placed 3rd in the school spelling bee, 2nd at Team Quest, and she took 1st place with both her drum solo and ensemble in IESA music competitions. As part of a mission trip, she traveled to Joplin, Missouri, to help clean up after the recent tornado, speaking out with her actions as well as her words.