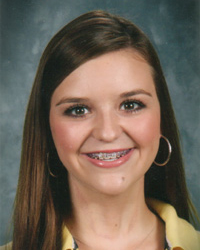 Claudia VanOpdorp
Annawan
Principal: Mr. Wayne Brau
Music seems to follow Claudia VanOpdorp wherever she goes. Claudia was the only junior-high student in her school to be chosen for the IMEA Honor Band, and she performed with them at Augustana College last December.
Her attitude towards music isn't just to play along, however. Claudia likes a challenge, and she found one with the French horn. "I started playing the single horn that my grandma had given me from when she was in school," Claudia writes. "And at a music contest that I attended, I had a judge tell me I should try the double horn, so I did, and I loved it!" It wasn't easy, but with hard work and lots of practice, Claudia prevailed with the double French horn. Now she hopes to earn a college scholarship with it.
Claudia, the 2012 Scholar Attitude Award winner from Board of Directors Division B, has participated in basketball, volleyball, track, softball, scholastic bowl, cheerleading, band, jazz band, chorus, drama, speech, the Student Council Talent Show, Reading Carnival and Homework Club. She won the Homeroom Spelling Bee at Annawan, and serves as president of student council. Last year, she was named the Junior Miss Henry County Fair Queen. As an 8th grader, Claudia has compiled an exemplary 4.08 GPA on a 4.0 scale.
She is also an enthusiastic volunteer, offering her time and talents to Toys for Tots and Henry County Fair fundraising, Little Miss Blaze, the summer reading program, and helping out at Sacred Heart and Methodist vacation Bible schools. But her heart is with Hammond Henry Hospital, where she has worked many hours in the geriatric wing. "I have had the pleasure of putting smiles on many faces there," Claudia says. "It is such a great feeling."