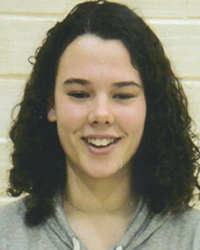 Jordan Rosentreter
Gillespie
Principal: Lori Emmons
It's no surprise that Jordan Rosentreter, who has won the 2011 Scholar Attitude Award from Board of Directors Division O, plays volleyball. After all, her mom is a coach, and Jordan has been attending practices as long as she can remember. You might say volleyball is in her blood.
But that doesn't mean she hasn't had to work hard to be good, or to keep her grades up so that she can compete. And Jordan admits she had a tough time with algebra last year. But she stuck it out, applying the principles that help her as a volleyball player and cheerleader. "Asking questions, studying harder or requesting help are options to help raise the grade," she writes. "An athlete must also be responsible for managing time. As a student and player, classes and practices must be attended regularly. Being late for class or practice is not an option."
Jordan also believes in playing by the rules. "The rules of the game must be understood and practiced in competition, just as rules in the classroom must be understood and practiced," she notes.
Jordan has competed in volleyball and cheerleading all three years of middle school, and she has acted as captain of both teams the last two years. She also plays on a community softball team and a traveling softball team that placed 2nd in state. She has also made Honor Roll every quarter of 6th, 7th and 8th grades, and she was named Student of the Month twice. She has also earned a perfect attendance certificate for all three years, proving that she practices what she preaches.
Jordan hopes to continue both softball and volleyball on the high school level.