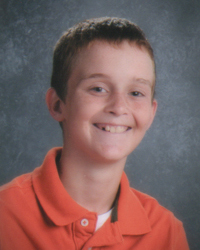 Mike Carr
Newton Jasper County
Principal: Travis Wyatt
If he could point to two attributes that make him a winner, Mike Carr would probably pick mental toughness and self-control. The former has helped him continue to work hard and not give up, even in the face of bullying or a hard loss, while the latter helps him act as a leader and a good sport, as well as a good representative of Jasper County Junior High.
"At my 7th grade sports awards banquet, I was awarded the sportsmanship award," Mike recalls. "Out of all the awards in the whole banquet, I was definitely most proud of this one." He adds, "It makes me feel great to think that I could go out, in school or out of school, and serve as an example of my wonderful school. To know that they believe in me to make the right decisions to lead my fellow classmates to a clean game on the court or a friendly meet on the track."
Mike plays baseball and basketball and runs track for Jasper County. He also competes in Scholastic Bowl, plays in the band and the winter drum line, and serves on student council. He has acted as the manager of the Newton High School boys' basketball team for four years, and he referees soccer games for 2nd and 3rd graders as well as helps out at the Jasper County Boys and Girls Ballpark.
He has received Highest Honors and was named in the top five in academic achievement in 7th grade. Aside from his sportsmanship award, he also took home accolades for fitness and perfect attendance.
Mike Carr is the winner of the 2011 Scholar Attitude Award from Board of Directors Division N.