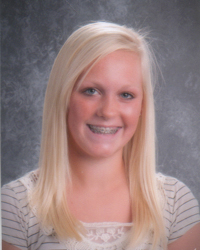 Madeline Mitchell
Effingham JHS
Principal: Jason Fox
"One of the best." More than one of Madeline Mitchell's teachers has written that assessment on her report card, right next to all the A's she's taken home. And, yes, her grades are stellar, putting her at the top of the class. But it's her positive attitude and cooperative personality that makes Madeline such an asset to Effingham Junior High.
The 2011 Scholar Attitude Award recipient from Board of Directors Division N, Madeline has competed in softball and volleyball, where she was named her team MVP. That award is important to her, too. "This means a lot to me not only because of winning MVP, but the fact that it was voted on by my teammates," she says. "I love being part of a team and I also love that my team gave me the honor of being the 2010 7th grade volleyball MVP."
At school, Madeline has earned High Honors and Honor Roll, plus she took home an academic achievement award in social studies. She has served on student council and is a member of Peer Mediators. She also belongs to the Fellowship of Christian Athletes and United Methodist Youth Fellowship. She's joined traveling softball and club volleyball teams, and she also volunteered at the Relay for Life.
Madeline's most-admired person is her mother, who provides an example to follow and a role model to emulate. "She is not only my mom, but my best friend," Madeline writes. "Anytime I need to go to her for help, she always knows the right things to do and say. She makes sure I keep up with academics and I respect her for that."
Madeline adds, "I know she will always be there to provide support and love whenever I need it."