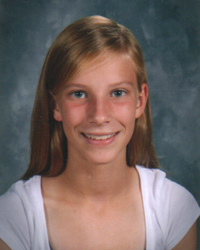 Mackenzie Nichols
Franklin
Principal: Jason Courier
Mackenzie Nichols knows she packs a lot into a day. In her career at Franklin Junior High, Mackenzie has balanced cross country, basketball, volleyball, track, Scholastic Bowl, speech team, chess club, pep band, music competitions, 4-H, church, the Nortonville Youth Club and even pitching in as the manager of the Franklin boys' basketball team. Because she would like to be a veterinarian someday, Mackenzie also takes care of relatives' and neighbors' cats and dogs in her off time.
"I think the feat in my life that I am most proud of is being able to excel in both athletics and academics at the same time," Mackenzie says. "Both school and extracurricular sports take a lot of time, work and dedication."
But all that work has its benefits, too. "Most importantly, I have learned leadership skills," she notes. "I feel that I set examples for younger students. I have earned the respect of my teammates, classmates and school staff. I have had to maintain higher grades in order to participate. I have made many friends, not just from my own school. I have learned responsibility and determination. I have learned to work hard and put forth my best effort in everything I do."
Mackenzie adds the 2011 Scholar Attitude Award from Board of Directors Division M to a long list of accolades, including a Judge's Choice Award in state speech, commendations for service and outstanding contribution and a certificate of excellence in band, a certificate of achievement in world history, an "Exemplary Performance" award in earth science, awards for academic excellence in math, life science and pre-algebra, an Honors Award for study of the Constitution, and citations for physical fitness, citizenship and for having the highest GPA in language arts at Franklin Junior High.