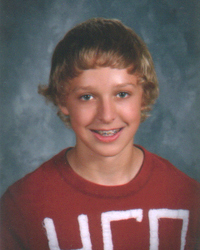 Colton Burrus
Cowden-Herrick
Principal: Tina Oldham
Although he won't be able to become a pharmacist for a few years, Colton Burrus already has the right prescription for success.
Colton knows that combining good attitude, good sportsmanship, leadership, respect and hard work always pays off. "Some of the benefits I have derived from participating in interscholastic activities are learning to work with others as a team player," Colton writes. "I have also learned to have good sportsmanship and a good attitude towards others.
He continues, "Playing a sport is a privilege. If you do not have respect for players and adults that take the time to help, then you should not be involved in the sport. Players should always give one hundred and ten percent and they will be a winner whether they win or lose the game."
At Cowden-Herrick, Colton has run track and cross country and played basketball. He has received High Honors, as well as math, science, language arts, P.E. and geography achievement awards. He was named the MVP on his basketball team, and he also made an All-Tournament team. And he made it to state in track, which he hopes to do again.
Outside school, Colton volunteered with his church youth programs and the UPWARDS basketball program as well as working in the kitchen at church camp.
Colton is the recipient of the 2011 Scholar Attitude Award from Board of Directors Division L. He would like to play basketball and baseball in high school and to continue to run track and cross country. His college plans include the St. Louis College of Pharmacy in St. Louis.